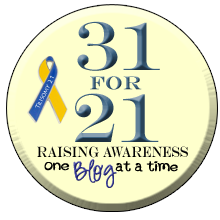 Lesson 19: Don't judge a book by it's cover.
Okay… so technically, I learned this one way back when I first read Madeleine L'Engle's A Wrinkle in Time.
I was captivated by the story, and it continues to be my all-time favorite book. But I absolutely LOATHED the cover of the version I read at 10 years old, which depicted Mrs. Whatsit's incarnation on Uriel like this:

If I had only looked at the cover, and chosen to make my judgement of the story based on it alone, I would have missed out on a life-changing read.
And of course, if you look at my son, or anyone else who has Down syndrome, and think you know the story inside, you've missed out on a life-changer, too.